Introduction
Suppose you've recently noticed a type of bomber jacket in more or less shiny fabric with Asian motifs. In that case, it's because fashion has been in charge of putting in front of us a garment that was once considered a distinctive object that served as a souvenir of a trip to an exotic location, but has now been recovered and reinterpreted, becoming present in the most cosmopolitan cabinets. Yes, guys, it is about the generally known as souvenir jacket or, for the most ardent purists, sukajan jacket (suka from Yokosuka and Jan, which is the phonetic representation of the phrase 'jersey' in Japanese) or, more directly and about the location of origin, yokosuka jumper.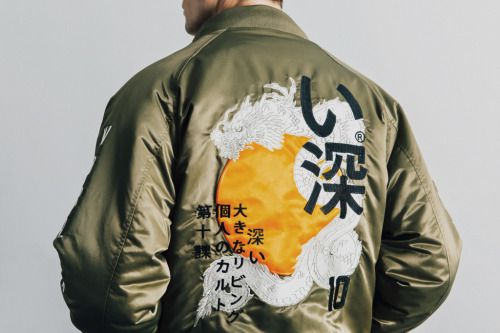 Origins
The origins of this garment may be traced back several decades when the American troops decided to create a camp in the Yokosuka region of southern Japan during World War II.
When the war ended, the American soldiers, like visitors, wanted to take a souvenir with them – for themselves, close friends, or families – to commemorate their time in Japanese countries. And, sure, this was the most representative object they discovered, which, whether they knew it or not, they brought with them and used to put a piece of the history they lived on the fashion map.
Characteristics
The most distinguishing features of the clothing that are now being examined are the fabric used, the motifs or embroidery, and the type of garment. Starting with the latter, and without going too far, the sukajan is nearly identical in features to an American baseball or varsity jacket. In a nutshell, a bomber with waist and cuff elastic, as well as that distinctive neck. They did, however, adopt alternative forms such as a shirt or bowling shirt, as seen later in the selected photographs. It was common to find them in silk or satin fabric, and leftover material from parachutes was often used. 
On the contrary, they may now be found in various natural and synthetic fabrics, ranging from cotton to acrylics. The embroideries were usually sewn by hand, and their preparation required a certain skill and time. However, due to the constant evolution of the cheaper production process and a lack of sensitivity for textiles, very few pieces can be found manufactured today, forcing you to turn to specialized producers or vintage garments if you wish.
As the principal distinguishing feature, the souvenir embroidered bomber jackets were adorned with themes ranging from tigers, dragons, geishas, or birds of paradise too, subsequently, symbols of American philosophy such as eagles.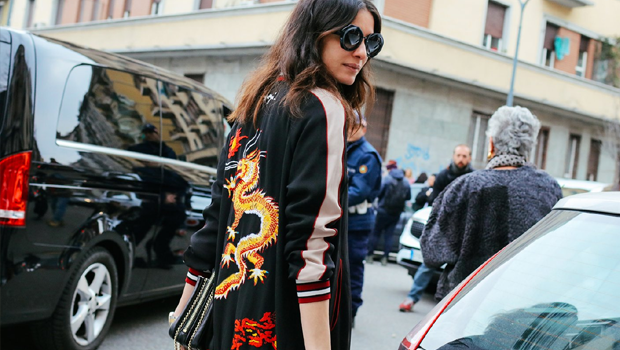 Rise, fall, and renaissance
How did embroidered bomber jackets offered at gift or souvenir shops in Yokosuka, a small Japanese city, become a cult item? One can guess that it was a combination of various reasons.
The most important element is that the world's leading potential was participating in the war. Many of its personalities from all over the world incorporated them into their costumes. All of this, combined with Japan's expanding influence in the fashion business, has aided its spread and acceptability in popular culture.
Similarly, several fashion brands have decided to reinterpret this jacket. Designers like Louis Vuitton, Gucci, Saint Laurent, and Valentino have featured them in recent shows. And, as much as it may annoy many die-hard fans of the latest consumer fashion, none of these labels will ever be able to blend so much history in a garment. It is significant for them.